Shop for DVDs, Books, Magazine Articles, Watercolor Beginner's Tool Kit
Here is a wonderful DVD about color!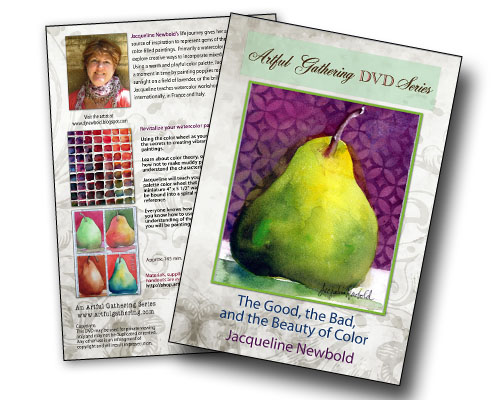 Revitalize your watercolor paintings with color!
Using the color wheel as your guide, you will unlock the secrets to creating vibrant and harmonious paintings.
Learn about color theory, successful color mixing, how not to make muddy paintings, and how to understand the characteristics of pigments.
Jacqueline will teach you how to make a personal palette color wheel that you will use to create miniature 4″ x 5 1/2″ watercolor paintings that can be bound into a spiral notebook for future reference.
Everyone knows how to make a color wheel, but do you know how to use it?  With a deeper understanding of the relationships between colors, you will be painting with confidence.