Jacqueline Newbold, Watercolor Artist
Jacqueline Newbold, Watercolor Artist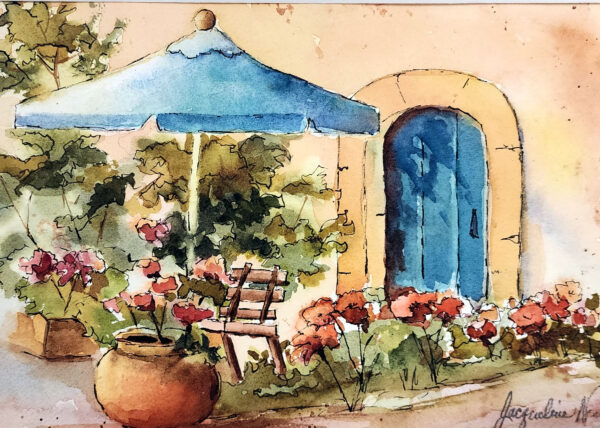 Artist Jacqueline Newbold enjoys painting life in color!
Her color-filled watercolor paintings capture a moment in time – sunlight on red poppies, the glow of a Tuscan village perched on a mountaintop, or the brilliance of a dramatic Oregon Cascade Mountain sunset. Jacqueline loves to share her passion for watercolor painting and mixed-media art journaling by teaching in her Art in My Heart private studio, the Art Unraveled Art Retreats in Phoenix, the Art & Soul Retreats in Portland, Oregon, France, and Italy. She teaches private watercolor lessons, classes, and workshops in her private art studio in Bend, Oregon.
"My life's journey gives me a never-ending source of inspiration to represent little gems of the world in my color-filled paintings."
Artist Jacqueline Newbold Paintings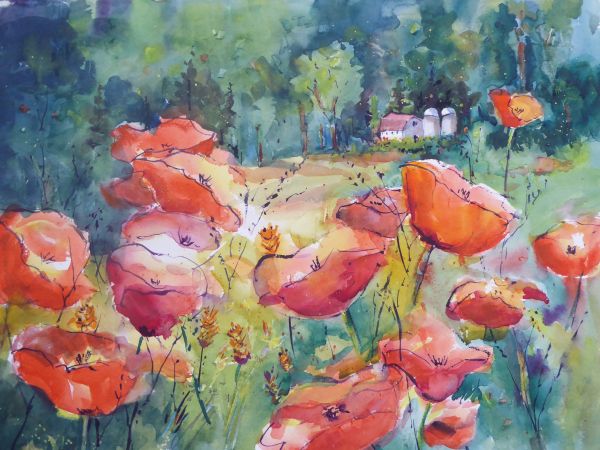 Artist Jacqueline Newbold Art Journals and Sketches
Much of Newbold's inspiration comes from her travels. She brings her efficiently organized backpack of painting supplies. It is filled with her art journal. She experiments with various imaginative ways to combine watercolor with mixed-media. Spending time creating in her art journal is her favorite artistic outlet.
"Art journaling to me is not so much about making art but recording my life in a colorful way. My journals are a place where I can experiment with different art mediums, and sort things out. I write about my life, my sorrows, my adventures, and travels. Playing with color, sketching, and doodling, is fun and relaxing. The process is fun! I love when the result surprises me."
Jacqueline is a Watercolor Teacher
"I enjoy teaching watercolor to beginning students! It is fun to see their joy of learning how to control the color and the paint. I also enjoy teaching watercolor to intermediate and advanced painters."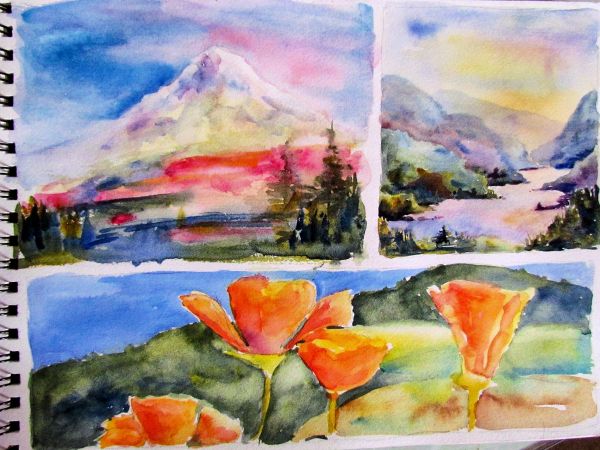 Jacqueline has an Interweave Workshop DVD: Art Journals On-The-Go: How to pack, prep, paint, and more
She has a self-published book, Watercolor Journeys, a helpful guide for beginning to advanced watercolor enthusiasts. Her articles and artwork can be found in magazines such as Somerset Studio's Art Journaling, Interweave Press's Cloth Paper Scissors, Studios, and the Cloth, Paper Scissors Book.
Member of the High Desert Art League
Member of the Red Chair Gallery, Bend, Oregon
Member of the Watercolor Society of Oregon
and Member of Fine Arts America
Artist Jacqueline Newbold Publications
Watercolor Journeys Inspirations from Travels, July/August 2009, Cloth Paper Scissors, Issue 25
Travel Journals Using Maps as a Starting Point, July/August 2010, Cloth Paper Scissors, Issue 31
Travel Journals Using Maps as a Starting Point, Cloth Paper Scissors Book, Techniques and Inspiration for Creating Mixed-Media Art by Barbara Delany, Interweave Press, 2011
Paintings On-the-Go, Prepare to Journal before a Trip, issued on July/August 2012 Issue 43, Cloth Paper Scissors, Collage Mixed Media
Painted Postcards, Gel Pens, Paint, and Paper, March/April 2013, Issue 47
Journal du Jour: Capturing a Colorful Life, Cloth Paper Scissors Studios Inspiration & Ideas for your Art and Craft Space, Special Issue Summer 2013
A Watercolor Travel Art Journal, Art Journaling by Somerset Studio, Autumn 2013, Volume 5, Issue 4
From Oregon to Maine, Jacqueline Newbold Experiences the Allure of Nature, Summer 2014, Cloth Paper Scissors Studios
Searching for Shapes, Art Journaling by Somerset Studio, Spring 2014, Volume 6, Issue 2
Black-and-White Journal Pages, Using Black Gesso to Set the Scene, and Water-Soluble Pens in Journaling, in Search of the Perfect Water-Soluble Pen, Summer 2014, Cloth Paper Scissors Pages, the Creative Guide for Art Journaling & Bookmaking
Flip, Flaps and Fold-Outs, Pages Premiere Issue, 2015
Mapping Your Journey, Cloth Pages Scissors, July/August 2015
Studio Spotlight, Jacqueline Newbold, Cloth Pages Scissors, July/August 2017
Watercolor Journeys, Inspirations from Travels Book, Self-published, 2011, 2013, 2015, 2017
JACQUELINE NEWBOLD DVDS
Art Journals On-the-Go: How to Pack, Prep, Paint, and More, DVD, Cloth Paper Scissors Workshop, 2011
The Good, the Bad, and the Beauty of Color, DVD, A to Zinnia Productions, 2013
1. Watercolor Toolbox, Artful Gathering DVD Series, A to Zinnia Productions, 2014
2. Watercolor Toolbox 2, Artful Gathering DVD Series, A to Zinnia Productions, 2015
3. Watercolor Fun, Artful Gathering DVD Series, A to Zinnia Productions, 2014
4. Watercolor Fun 2, Artful Gathering DVD Series, A to Zinnia Productions, 2016
Exploring Watercolor and Mixed-Media, Artful Gathering DVD Series, A to Zinnia Productions, 2016
A Naturalist's Watercolor Journal, DVD, A to Zinnia Productions, 2017
SHOWS, AWARDS, MEMBERSHIPS
Signature Artist, 2009 Deschutes's Children's Foundation
People's Choice Award Recipient, 2008 D. A. Davidson's Artist Art contest
Kitchen Kaleidoscope Artist of the Year, 2011 Assistance League of Bend, OR.
Instructor at Bend's Art Station, 2002 – 2011
Cover Artist Cascade Arts & Entertainment, May 2009
SPLASH 18: Value – Celebrating Light and Dark (The Best of Watercolor) by Rachel Rubin Wolf (Editor), July 21, 2017
Member of the High Desert Art League, 2005 – present

President of the High Desert Art League, 2011 – 2014
President of the High Desert Art League, 2016 – 2018

Member of the Oregon Watercolor Society, 1987 – present
Member of the Red Chair Gallery, Bend, OR, 2010 – present
Recent Publications:
LINKS:
High Desert Art League, President, 2016 – 2018
Watercolor Society of Oregon Member