About Jacqueline
About Jacqueline
Jacqueline Newbold, Artist, and Mixed-media Explorer
Jacqueline Newbold is a watercolor and mixed media artist.  Using a warm and lively palette, Jacqueline Newbold's colorful watercolor paintings often depict the dramatic skies over the Oregon Cascade Mountains, fields of red poppies, rows of lavender leading to a rustic barn, or charming European café scenes.  Her studio is in Bend, Oregon.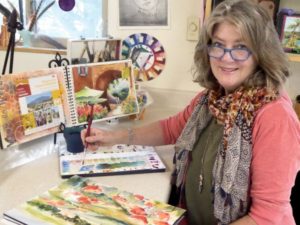 Much of her inspiration comes from her travels. She brings her efficiently organized backpack of painting supplies and art journal and experiments with various imaginative ways to combine watercolor with mixed-media.  Spending time creating in her art journal is her favorite artistic outlet.
"Art journaling to me is not so much about making art but recording my life in a colorful way.  My journals are a place where I can experiment with different art mediums, sort things out, write about my life, my sorrows, my adventures, and travels.  I play with color, sketch, doodle, take notes, make lists, add inspiring quotes and write about my day.  The process is fun, and I love when the result surprises me.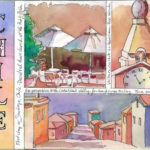 In 1991 I started taking a watercolor journal and a few art supplies when traveling on family vacations. I found it was an expressive way to document my journey. Over the years, my journals have evolved from a collection of just watercolor paintings to complex pages filled with mixed media and paintings. The mixed media is

how I develop textured backgrounds for sketches, paintings, writings, mini-collages, photos, and poetry.
YOUNGER YEARS
Growing up in an Air Force family, traveling has been part of my life since I was born in Tokyo, Japan.  My mother was born in Paris, France and married my dad, an American G. I. from Iowa.  Our young family of four traveled the world and lived in foreign countries giving me an international upbringing and a love for travel.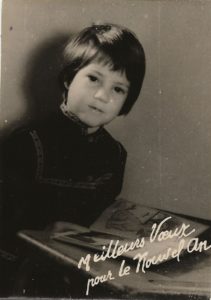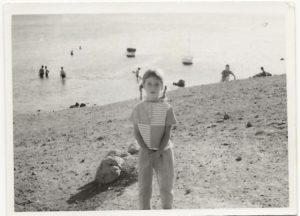 We settled in Montgomery, Alabama during the tumultuous years of racial unrest of the 1960's.  After graduating from the University of Alabama, I realized that though I had traveled many parts of the world, I had never been to the western states of America.  Coming out west, I spent time in Washington, California, and Oregon. My gypsy life was left behind when I took up residence in Bend, Oregon and it was here that I took my first watercolor class.  At that moment I fell crazy in love with color and I now consider myself to be a painter of color.
Jacqueline's Travel Spirit
My wanderlust spirit calls me still, and my journeys give me a never-ending source of inspiration to represent little gems of the world in my color-filled paintings.  Now when I travel I am equipped with my watercolor journal and wherever I go I spend time painting and creating a personal work of art more memorable than any photo album.  My journals are filled with watercolor paintings that capture memories of my travel experiences and record my voyage in a creative and unique way. When at home in my studio, these small paintings and sketches are often the seedling for my larger creations."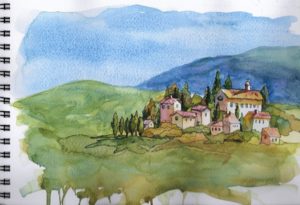 She shares her passion for watercolor painting and mixed-media art journaling by teaching art classes and workshops at her Bend, Oregon private studio, the Art Unraveled Art Retreats in Phoenix, and the Art & Soul Retreats in Portland. She has conducted watercolor workshops and art classes in France and Italy.  Her next overseas workshops are in Orvieto, Italy, September 2018 and Provence, France in May 2019.
"I find that people often don't know how to start a journal page.  So I developed some easy ways to help them get over their fear of the blank page. I want to inspire people to tap into their artistic ability."
Jacqueline's art is available at the Red Chair Gallery in Bend. You can find out more about her creative adventures on her blog, www.djnewbold.blogspot.com.