My book about watercolor theory, techniques, and lessons is back in print. This is the 8th edition! It includes new and detailed lessons such as how to paint on a map, bird house painting lesson, creating texture with salt, flowers in a vase painting, and adding pen and ink to a watercolor painting. Click on the Buy Now button below to purchase your copy today!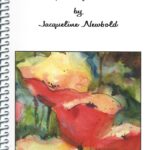 My DVDs are no longer available. Check back for some online live classes!
Dive into the colorful world of nature with Jacqueline Newbold! She will guide you step by step as you explore the various ways to use watercolor paints and mixed media to create a naturalist's art journal.
Keeping a journal of your field study notes, drawings, and paintings of the natural world will enrich your experiences with nature and help develop your skills as an artistic naturalist.
Jacqueline shows you how to capture the essence of the wonderful world of feathered and furry creatures with simplified