Watercolor Journals
Watercolor Journals
Jacqueline Newbold's Watercolor Art Journals
Here are some pages from my watercolor art journals. I have been painting and adding mixed media to my journals since 1992. I include small paintings, sketches, color charts, traveling memories, and photos. Sometimes I use white or black gesso, stencils, gold paints, and colorful inks.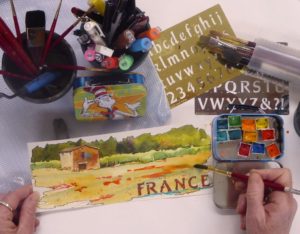 My journals have become my diaries.  I call them visual diaries as I don't like to write as much as I love to paint, draw, and experiment with mixed media.  Art journaling to me is not so much about making art but recording my life in a colorful way.  My journals are a place where I can experiment with different art mediums, sort things out, write about my life, my sorrows, my adventures and travels.  I play with color, sketch, doodle, take notes, make lists, add inspiring quotes and write about my day.  The process is fun, and I love when the result surprises me.  I have written articles for Cloth Paper Scissor and the Art Journaling magazines about using watercolor and mixed-media together.
I enjoy painting with watercolors because it is such a dynamic painting medium.  Lately, I have been having fun experimenting with combining other painting media into my watercolor paintings and journal pages.  I find that mingling additional materials such as inks, gouache, acrylics, salts, watercolor stick scrapings, and pastels with watercolor creates vitality and lovely surprising results.
I teach watercolor workshops at my Tumalo studio, the Art Unraveled Art Retreats in Phoenix, and the Art & Soul Retreats in Portland, Oregon.   Please join me on watercolor workshops in Provence, France or Orvieto, Italy.