Rain, Rain, Go Away….
Rain, Rain, Go Away….
I have never seen it rain so much in Provence, let alone anywhere! Rivers of water are running down the street and puddles are gathering. The shop keepers tell me it has been raining since January! This is very unusual for this normally sunny burnt sienna and Indian yellow with a touch of manganese blue kind of place. Still we manage, armed with umbrellas, to walk to
St. Paul de Mausole
, a hospital for the insane and home of Vincent Van Gogh for one year. Here he managed to paint over 160 paintings. We see his bedroom and walk along the corridors where he once painted. We sketch and paint on location. The iris and red poppies are blooming.
.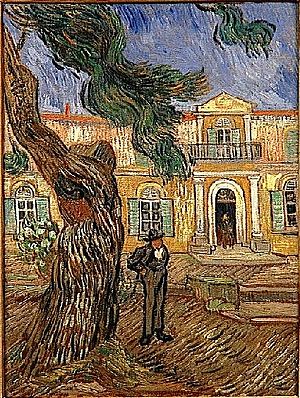 Posing with a statue of Van Gogh
Beautiful Scene in the cloister gardens
Blue Iris Blooming
Marie takes advantage of some sunshine to do a drawing
Painting in the courtyard