Paint, Finding Inspiration
Paint, Finding Inspiration
Artists can get a little bogged down once in awhile and need the inspiration to paint
Sometimes artists need the inspiration to paint.  Maybe it is because we tend to paint the same subject matter, use the same color scheme, or feel like we are not growing in our art.  One way to get a jump start on the new day ahead is to browse through the latest issue of the Art Journaling magazine.  It is always filled with colorful, edgy, creative art.  I am excited to say that my Baja Journal is featured in the latest issue of Art Journaling!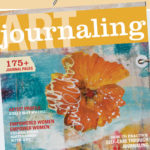 This is the cover of the new Art Journaling magazine published by Stampington and Co.  I love seeing the brightly colored orange flower against the powder blue background.  It is so simply painted and with the added splashes of white paint, the artist makes it look loose and lively.  Why not try painting this flower to get you started on a colorful day!  Simple, colorful and fun.
Another idea for finding inspiration is to paint along with an art DVD.  I have several available for purchase with the online shop at the Artful Gathering the online art retreat.  Check it out!