DVD FOR WATERCOLOR ARTISTS – Watercolor Fun!
A Jacqueline Newbold DVD Watercolor Fun
Take your watercolor painting skills to the next level. You will paint along with Jacqueline as she shows how she paints several paintings from start to finish.
Composition, glazing, edge control, layering, adding darks, and self-critique is some of the watercolor techniques she will cover in this step-by-step painting workshop.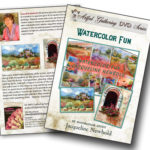 Included will be how to paint loose and how to fix problem areas. Each painting will start with a short "warm-up" exercise. This is a great workshop for beginner and advanced painters that want to improve their watercolor painting skills.
This DVD is a great gift for your watercolor artist!