I am so happy to share with you my new article, Color Choices, in the July 2020 issue of Art Journaling Magazine! It is always a privilege to be included in such a prestigious art magazine. My article is about how I make watercolor color choices in my travel journals.
Whether painting landscapes, windows with flowers, or just preparing a colorful backdrop for journaling, there are color choices to be made. Color is what initially drew me to watercolor painting. As a novice painter, the excitement I felt for all the lovely bright juicy colors when putting watercolor on paper led me to use every single pigment on my palette in all my paintings. Unfortunately, my attempts ended in a big, ugly, muddy mess. This was the beginning of my lifelong quest to learn everything I could about color and how to make certain combinations to create beauty instead of dreadfulness. I learned many secrets of mixing color by studying how to use the color wheel and by producing oodles of color studies. This article shares with you some thoughts on how to successfully create colorful, vibrant paintings and art.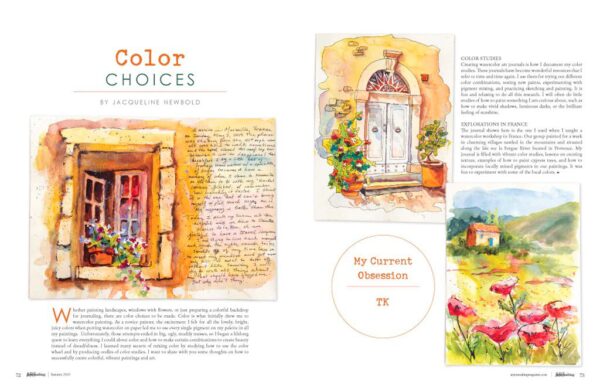 Watch for the release of Art Journaling Magazine Summer Issue 2020 available July 1, 2020!