Fun Art Journal Page, Part 2
Fun Art Journal Page, Part 2
For one of the first time's in my life, I am snow bound! The high for the day is 11 degrees and snow is falling constantly. What a great day to do some art but first I made chicken soup from scratch and a new found yummy cardamon cookie recipe. Now I had time to enjoy finishing my Fun Art Journal Page.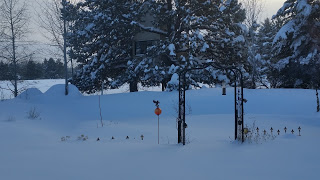 Out my back door….
Finishing my art page: After all the colors have dried and edges are finished, (
see part 1
) I added the words "The journey of a 1000 miles starts with a single step". This is a quote from Lao Tzu. I love this quote because it means that great things start from humble beginnings.
They come in 4 different nib sizes and lots of great colors of ink!
I used the Parallel Pen to write the quote on my journal page. I hope you have fun trying this out!