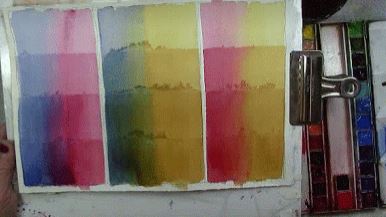 Watercolor Journaling, Part 2
Watercolor Journaling, Part 2
In my last post, Watercolor Journaling, Part 1, I wrote, "
It is all about timing and developing a feel for how much water is in the paint, on the brush, and on the paper. The water on the paper is continually drying as you are painting unless you are adding more and more water. Don't do that! Try to add less and less water as the paint dries. See what happens!" I am hoping that you practiced this and are beginning to see how the relationship between the paper drying, the amount of water in your brush, and the amount of water in your watercolor paint. It is all so fun to play and discover the subtleties of watercolors!
More tips for watercolor journaling:
1.
Continue to build up layers and layers of watercolor paint, letting each layer dry before painting the next. Another word for this is glazing.
Applying a glaze on top of the same color darkens the value. The more glazes you add, the darker the value will become.
2.
You can also glaze with a different color than what you started with. Play with glazing the same colors over each other or choose a different color.
3.
Continue painting with glazes until you are done.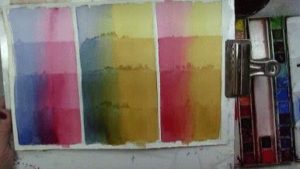 Example of glazing colors on top of each other
Hint:
Don't spend a lot of time fussing over the part you are glazing. This will start to dissolve the dried layers underneath and will cause the layers to mix, creating mud, instead of laying on top of each other.