Watercolor Workshop in Provence, France with Jacqueline Newbold
Watercolor Workshop in Provence, France with Jacqueline Newbold
Watercolor Workshop in Provence, France with Jacqueline Newbold
Are you interested in a Painting Workshop in Provence, France?
I had so much fun putting together this short video showing scenes from our past watercolor workshops in Provence, France.  Please check it out and let me know what you think!  Watercolor Workshop in Provence France with Jacqueline Newbold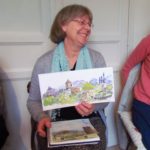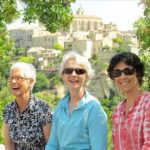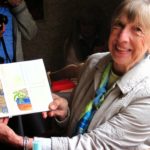 Artist Jacqueline Newbold enjoys painting life in color!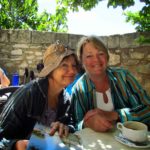 Her colorful watercolor paintings capture a moment in time.  She paints sunlight on red poppies, the glow of a Tuscan village perched on a mountaintop, and the brilliance of a dramatic Oregon Cascade Mountain sunset.  Jacqueline loves to share her passion for watercolor painting and mixed-media art journaling by teaching in her Bend, Oregon private studio.  She also teaches at the Art Unraveled Art Retreats in Phoenix and Art & Soul Retreats in Portland, Oregon, France, and Italy.
Join me for this wonderful watercolor, art, and painting workshop in France. We will be on an artistic journey of creative expression! Our home base will be a charming medieval village in Provence.  We will have fun painting and creating art in our watercolor journals.
Watercolor and Mixed-Media
You will learn to incorporate watercolor and mixed-media techniques as we spend a magical time together exploring the area, rich with sights, sounds, and colors – all wonderful inspiration for developing your artistic eye. Our host will be frenchescapade.com. They will provide many delicious meals cooked by a French chef and transportation to painting sites. We will stay in a charming hotel with a little river meandering through the garden, an outside swimming pool, a hot tub, and a riverside terrace bar all surrounded by impressive mountains. This workshop is available for all levels – beginners and experienced artists are all invited to come along on this delightful trip!