Check out my new article in Cloth, Paper, Scissors Magazine, A New Twist on Pen & Ink
Check out my new article in Cloth, Paper, Scissors Magazine, A New Twist on Pen & Ink
My article,"A New Twist on Pen & Ink", is in the latest issue of Cloth, Paper, Scissor.
My article,"A New Twist on Pen & Ink", is in the latest issue of Cloth, Paper, Scissor.  It is available for purchase now.  It is about how I add pen and ink to my watercolor paintings.  I give many examples from my journal paintings.
Unfortunately, I am sorry to say, that this is supposedly the last issue of CPS!  This magazine has been a great inspiration to me as a budding artist.  I remember how timid I was about submitting my first article in 2008.  It was accepted and published in 2009.  I was ecstatic!  It encouraged me to continue along my artistic journey!  That was the same year that I took a group of artist to paint in Provence, France.  Boy, did we have fun!  I encourage you to write letters to the publishers, F& W to ask for the magazine to continue.  I think it is the only one that meets our watercolor and mixed media needs.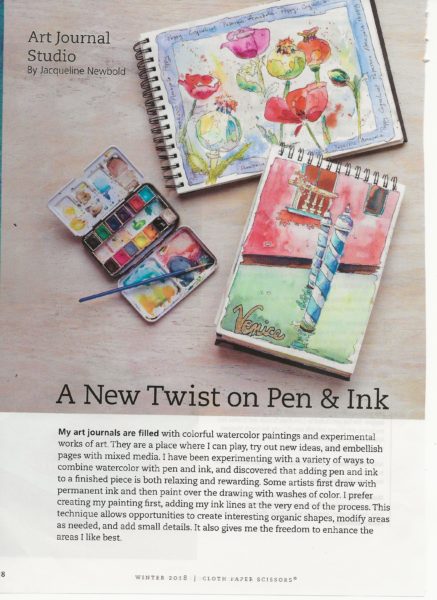 Check out my latest newsletter
Artist Jacqueline Newbold enjoys painting life in color!  Her color-filled watercolor paintings capture a moment in time.  She loves to paint the sunlight on red poppies, the glow of a Tuscan village perched on a mountaintop, and the brilliance of a dramatic Oregon Cascade Mountain sunset.  Jacqueline loves to share her passion for watercolor painting and mixed-media art journaling by teaching in her Art in My Heart private studio, the Art Unraveled Art Retreats in Phoenix, the Art & Soul Retreats in Portland, Oregon, France, and Italy.  She teaches private watercolor lessons, classes, and workshops in her private art studio in Bend, Oregon.