Wishing you a Merry Christmas!
Wishing you a Merry Christmas!
Wishing you a Merry Christmas!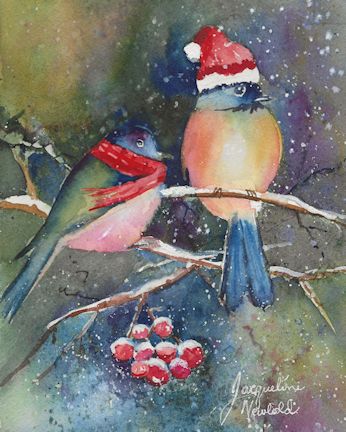 Wishing you a merry Christmas! It is a beautiful time of year.  With the holiday upon us, it is sometimes hard to find time to paint.  It is fun to paint watercolor Christmas cards.  Here is a painting that I painted of two birds sitting on a branch with a snowy look.  I sprinkled white gouache into the watercolor paint while it was drying in order to get the effect that it is snowing.  I sprinkled more white gouache on the painting after the painting was dry. That way some of the gouache spread and softened, while the drier gouache made smaller looking drops of gouache.
To finish, I added white gouache on top of the berries and on top of the branches to give the look of snow piling up.  I hope you enjoy this little Christmasy watercolor painting!
Artist Jacqueline Newbold enjoys painting life in color!
Her color-filled watercolor paintings capture a moment in time – sunlight on red poppies, the glow of a Tuscan village perched on a mountaintop, or the brilliance of a dramatic Oregon Cascade Mountain sunset.  Jacqueline loves to share her passion for watercolor painting and mixed-media art journaling by teaching in her Art in My Heart private studio, the Art Unraveled Art Retreats in Phoenix, the Art & Soul Retreats in Portland, Oregon, France, and Italy.  She teaches private watercolor lessons, classes and workshops in her private art studio in Bend, Oregon.
My next teaching trip is to Provence, France, May 2019.  You can find out more information about the trip with French Escapade.  Join me for a fun time!! You will be able to create a journal just like my Italian watercolor and art journal!